>> HVLP spray gun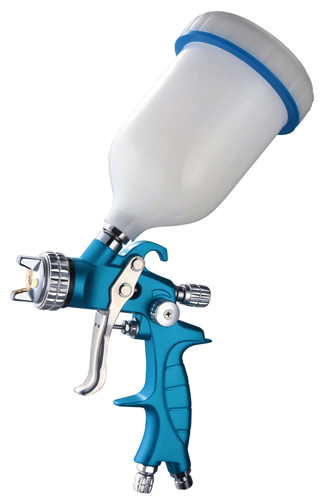 HVLP Top Gravity Spray gun
Precise concentricity ensure 360° fine atomization,which is second to none,perfect performance and outstanding atomization for excellent finishes.
Get a superior finish and save paint at the same time

High volume low pressrue technology applies paint with less force, meaning less paint"bounces" off the surface into the air.
Stainless steel needle and tip allow use with water-based material
1.Air consumption(100%)CFM:14.5

2.Cup volume:600ml
3.Nozzle size:1.4mm,1.7mm,2.0mm stainless steel
4.Needle: Stainless steel
5.Spray pattern:200-250mm

6.Fluid(Water)Delivery:190-250ml/min
7.Working pressure:30-43psl
8.Weight:0.71kgs,1.562Lgs
9.air inlet:1/4"
10.Color Box: 10pcs 76x46x26.5cm 12/11kgs
>> Back